Do you have a small apartment or a studio and can't afford a bed, because it would take up too much valuable space in the room? In this situation a sofa with a sleeping function will be a perfect choice! During the day it can serve as a comfortable seat, but also as a place for work, study and meetings with friends and family. In the evening it can be easily turned into a comfortable bed.FunctionalityBefore choosing one type of sofa bed or another, it is essential to know what to use and how often we are going to use it. A sofa bed...
---
Every living room has a space for a coffee table. When it comes to decorating living rooms, coffee tables are one of the most important pieces of furniture.Looking for modern coffee table set ideas to update your home? Check out below styles that'll make your home look fabulous! Soroya TV Cabinet With Coffee Table Set This white and grey coffee table takes modern elegance to a new level with marble pattern top and simplistically sleek design. Not only is it gorgeous with its bold angular design, it also features storage compartments both concealed and open. Walker Tempered Glass Double Layer Rectangular Coffee Table...
---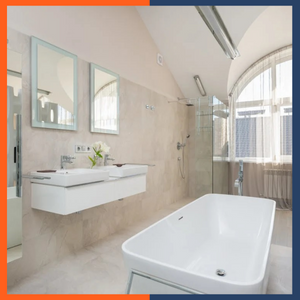 When it comes to redesigning your bathroom, you may think a need to do a total upgrade. Actually you can just give your bathroom a completely new look with simple and budget friendly upgrades. Simple decorating tips and tricks can revitalize your bathroom while remaining wallet-friendly.Enhance Visual TextureDecorating your bathroom with wallpaper is an easy, inexpensive way to achieve colour and pattern. Wallpaper can help uniquely modernize your space, plus it makes it simple to switch up your bathroom when you no longer love the design.Bring in FlowersReal or artificial plants can transform even the plainest of bathrooms from basic...
---
If you love watching TV and movies, then you know how important it is to have a great cabinet for your television. Not only does the TV stand need to be the right size, but it also needs to be the right style and colour to match your home decor. TV cabinet will help elevate the TV to better viewing angles and also provide extra storage space that can be used to hold decorative items.Size and SpaceThink about the size of your TV and how big of a TV cabinet you will need. First step is to measure the dimensions...
---
Interior design is highly personal, but there are still a few tips and tricks to adhere to if you want to achieve a truly inspiring space. You are not going to hire an interior designer without first asking some questions.How do I choose between the many interior design styles?During initial consultation with designer, you will discuss your likes and dislikes. This will help narrow the field. Photos are also helpful in choosing an ultimate design. How you want to furnish the space, as well as how it will be used can make a difference in style selection.What design services do you offer?You want to make...